Thanks for printing! Don't forget to come back to Marlow's Tavern for fresh articles!
American Tavern Fare
The Usual? We don't serve that here.
Our Neighborhood
Our community feeds us and we are more than happy to reciprocate.
When we're not cooking, we're connecting with the people and causes that are closest to our hearts. Talented artists and musicians that draw their inspiration from these same streets. Local farmers who believe in better food, not bigger production. And events that keep us all grounded with what really matters most in life. We hope you'll visit soon!
Insider Club
Sign up to be a Marlow's Insider to get exclusive offers and event invitations.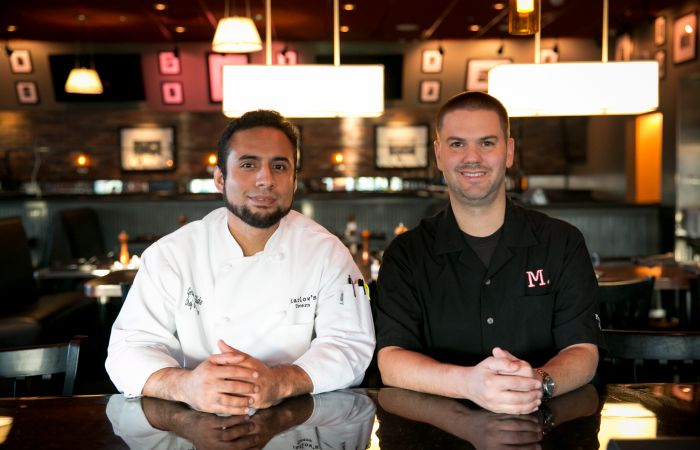 Jessica
I came here last night without reservation and this has become one of my favorite places. It has a very nice environment, booth or table seating great especially for a date night. The manger came by and welcomes us as this was my first time there. The waiter was awesome, made some great suggestions on food options and checked up on us without over doing it. The food and drinks were made just right! The price was not to shabby either. With that being said go try it!!
Jay
The Firecracker shrimp is amazing. Everyone at the table wanted it so we had to order another order of it. All the wines were delicious especially their white sangria. Ahi tuna was very fresh and tasty. The ribeye steak was so good and perfectly cooked. Our server Brieaunna was seriously the best server I have had in a long time. So kudos to them for a great employee. She was so knowledgeable and just on point. It was our first time and I would go there ANY time!
Desmond
Marlow's is that place that you know you'll always get superior service and amazing food. You'll never go wrong here.
Marlow's Tavern

Waterford Lakes - Takeout, Lunch & Dinner Dine In!Get Directions
Address
547 N. Alafaya Trail
Orlando, FL
32828
Hours
Sunday - Thursday 11:30am-8pm
Friday & Saturday 11:30am-9pm

About Marlow's Tavern in Waterford Lakes
Are you looking for a local restaurant that uses the freshest ingredients and boasts a fun, casual atmosphere that's great for any occasion? At Marlow's Tavern in Waterford Lake, FL, we know our guests care about the food they're putting in their bodies, which is why we offer an appetizing list of gourmet, made from scratch meals that are delicious and healthy. From classic American tavern burgers to tasty starters like asparagus fries and our famous hummus, our menu is as varied as you want it to be depending on your mood.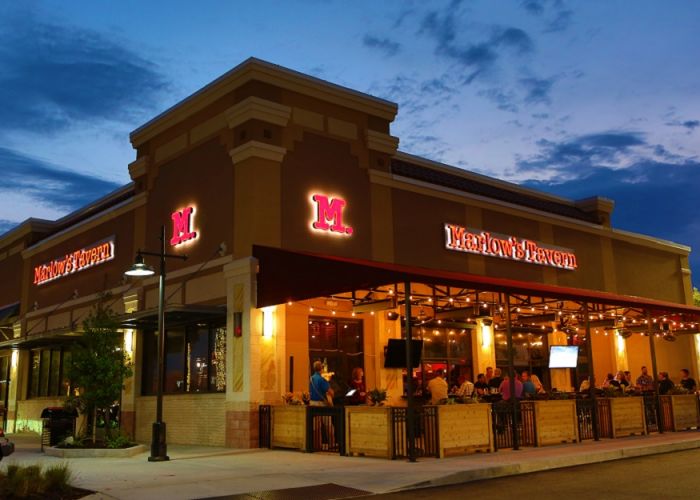 Watch Our Chefs in Action
Our open kitchen setup lets you feel like you're part of the cooking experience, so you always know how your food is being prepared. We also offer communal tables and comfortable, cozy booths throughout the bar and dining areas to provide an inviting atmosphere that always feels like you're dining with friends.
Exquisite Drinks Made to Order
Want to pair your meal with a handcrafted cocktail? See for yourself why we're considered the best cocktail bar in Waterford. Our cocktails are made with the finest liquors and crafted by experienced bartenders who know that making a drink is truly an art.
We Offer an Excellent Brunch Menu
Wake up slowly on a Sunday morning, then visit Marlow's Tavern. We have an extensive brunch menu with good brunch ideas in Waterford Lake, FL, for any occasion. Celebrate a birthday with a yummy made to order omelet, toast an anniversary with a mimosa, or just enjoy one of our superb made from scratch meals and forgo the kitchen cleanup at home. Check out the spacious patio seating at the best outdoor patio restaurant in the area.
Relax and Unwind with Your Favorite Neighborhood Bar
There are plenty of restaurants with happy hour in Waterford, but only Marlow's Tavern has a restaurant lounge that surpasses the status quo. Whether you're ending the work day or starting the weekend, drop in for a glass of Stemmari Pinot Grigio '15, a crafted cocktail made with Aviation Gin, fresh lemon, Jack Rudy grenadine, or a simple, iced cold beer. Did we mention we also have live entertainment on select days of the week?
The next time you're looking for a good time in Waterford Lake, FL, drop on in. Whether you're entertaining clients or hanging out with friends, Marlow's Tavern is the place to be. Our doors are always open and we can't wait to meet you!