Thanks for printing! Don't forget to come back to Marlow's Tavern for fresh articles!
American Tavern Fare
The Usual? We don't serve that here.
Our Neighborhood
Our community feeds us and we are more than happy to reciprocate.
When we're not cooking, we're connecting with the people and causes that are closest to our hearts. Talented artists and musicians that draw their inspiration from these same streets. Local farmers who believe in better food, not bigger production. And events that keep us all grounded with what really matters most in life. We hope you'll visit soon!
Insider Club
Sign up to be a Marlow's Insider to get exclusive offers & event invitations.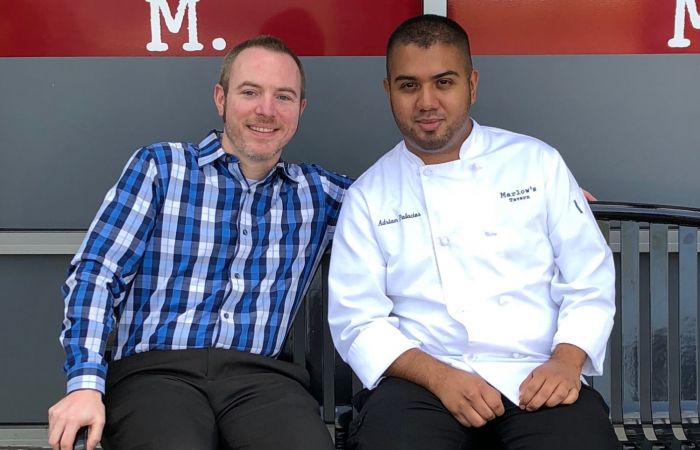 Connie
We love Marlows, the food, the drinks, the atmosphere, the patio, and, of course, the help. A waitress can make or break the experience, and ours always make it even more enjoyable. The manager is super nice too. Always coming around to each table to make sure everything is satisfactory.
Brian
The food and the service was great. First time I've been and will be back. 👍🏻
Matthew
I come here all the time for consistently top notch service, good beer selection and the Royale with cheese has got to be the best burger in Atlanta.
Marlow's Tavern

Sandy Plains - Takeout, Lunch & Dinner Dine In!Get Directions
Address
2960 Shallowford Road
Marietta, GA
30066
Hours
Sunday-Thursday 11am-9pm
Friday & Saturday 11am-10pm

About Marlow's Tavern in Sandy Plains, GA
Our lives seem busier than ever. We juggle work and family and social and volunteer commitments that take time and energy. There are days we just don't want to cook, but we do want made-from-scratch cooking. We also want a drink, preferably a hand-crafted cocktail. We want to relax and be waited on in an environment with a pleasing ambiance. We want an exceptional experience without an exceptionally expensive bill.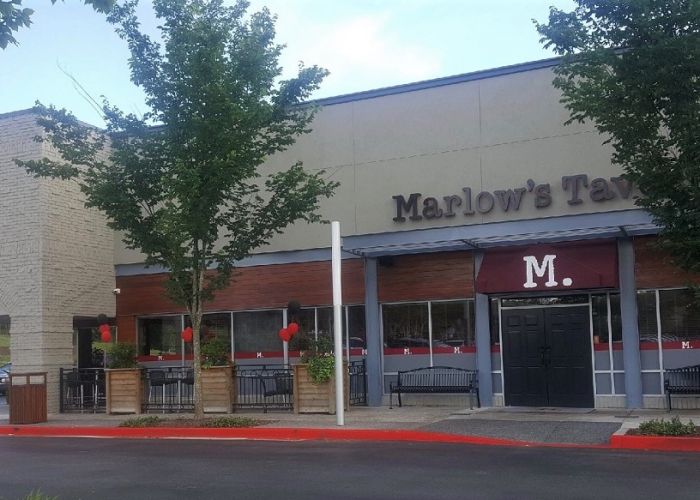 There are other days when we've put a lot of time and effort into our work and it's time to celebrate with colleagues and friends. We want to have a drink, share some appetizers and laughter, and listen to some good music.
Luckily for those of us in Sandy Plains, GA, there's a place where we can do all of the above: Marlow's Tavern.
Enjoy Made-from-Scratch Cooking in Sandy Plains, GA
Local farmers supply fresh food for chefs who are committed to making Marlow's Tavern the best restaurant in Marietta. They offer classic American tavern fare and cocktails with a twist. The menu selections evolve with each season. Marlow's menu features daily specials chosen by the chef. In addition to the specials, you can choose from a selection of starters, salads, tavern favorites and sweets, all updated and raised to a higher level.
Enjoy the Best Handcraft Cocktails in Sandy Plains, GA
Marlow's Tavern offers a selection of wines (by the glass or bottle) and a variety of domestic and imported beers, as well as local and regional microbrews. Marlow's offers classic cocktails and signature martinis, using the freshest seasonal ingredients. The result is a crisp, refreshing drink that's even more enjoyable when shared with friends.
Best Outdoor Patio Dining in Sandy Plains, GA
If the weather is good and you want to sit outside, Marlow's patio provides a place to sit back, draw a deep breath, relax, and leave the stress of the day behind, at least for a while. Enjoy the fresh air while having a great meal or an appetizer and drinks with family, friends, and colleagues.
Best Weekend Brunch in Sandy Plains, GA
Marlow's Tavern Sunday Brunch includes traditional breakfast items along with many additional gourmet selections and excellent deserts, so turn off your alarm clock and enjoy sleeping in.
Meet Me at Marlow's
Marlow's Tavern is a great place to enjoy good food in a casual environment where the focus is on food and fun and friendship, so make one of your favorite phrases, "Meet me at Marlow's."